To be completely honest with y'all, I didn't even know that Maxine Brown had written an autobiography until a friend of mine let me borrow his copy. For those of you who are unfamiliar with Maxine, she was a member of the Browns, a sibling trio from Arkansas. The Browns were huge stars back in the '50s and '60s, but don't get much recognition nowadays. Their biggest hit was a song called "The Three Bells," which came out in 1959, and their first hit was 1954's "Looking Back to See," which is where the book's title comes from.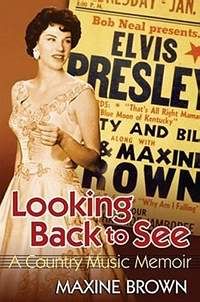 The Browns were plagued by tragedy even before they becoming recording artists, and their bad luck only continued after they became famous. I won't go into all the details, because I could be here all day, but there are some really depressing parts to this book. But if you love country music, you owe it yourself to read Looking Back to See. There's lots of gossip about country music stars from the '50s and '60s, and Maxine isn't afraid to tell the truth about what really went on in the country music world. And if you have no idea who half the people she writes about are, don't fret; there's a Glossary of Names in the back of the book so you can look them up!
On the downside, the book can be a bit confusing; Maxine has a habit of jumping around chronologically. Or she'll be talking about how the recording industry has changed, and then suddenly start listing and thanking all the musicians who played on the Browns' recordings. But flaws aside, this is a very enjoyable and interesting book about real country music. Check it out if you get a chance!